The world of crypto is dynamic and investors who'd like to be successful must keep track of relevant changes in the industry. Prices fluctuate all the time, influencing the investors' trading decisions. Keeping track of everything you need to know, let alone just the price of crypto, isn't easy.
Of course, shrewd software developers have thought of a product that people need and will pay for. Thus, the idea of handy crypto price alert apps was born. As the name implies, such apps will alert users of any crypto price changes they're interested in. This can be of great assistance in making the investors' everyday trading easier. Such crypto notification apps can also be used only sporadically, in situations when your trading decision depends on a fast alert system.
Because of their usefulness, we've prepared this guide on everything you should know about crypto price notification apps. We'll explain how such apps work, as well as try to identify the best crypto price notification app. The clock is ticking and the prices are changing, so let's get to it.
How do Crypto Notification Apps Work?
Based on your set-up preferences, a crypto price alert app will notify you about any changes in crypto prices. It will also inform you about other relevant data, for example, if there's a change in crypto's trading volume or market cap.
You can choose which cryptocurrencies to track, as well as decide on the additional settings. For example, you may want to be notified only when a crypto's price rises above a certain threshold. This can be a percentage threshold, i.e. you'll be notified when the price is 20% higher, for instance. Or, it can be just the value in fiat currency, so, for example, you'll get an alert when a certain crypto's price falls below $30. Apps can also be set up to simply notify the users about prices at regular intervals.
Crypto price notification apps can keep track of as many currencies as you like. They enable users to set-up individual price alerts, corresponding to different crypto. In fact, price notification apps are especially useful in such cases, as it's hard to manually check the price of several different currencies. Therefore, you can check the prices of popular cryptos if you're interested in the Ethereum or Bitcoin price, but you also find out what's the price of, let's say, Cardano or Stellar.
A crypto alert app will likely have additional features, as well. For example, a common feature is the one that identifies trading spikes that you should be aware of. Another is the option to keep track of transactions in certain wallets. We'll discuss such features in greater detail in the section of the article below, as we begin to analyze the best price notification apps.
Top 3 Crypto Notification Apps
For this article, we've selected three of the best price alert apps. Each one is aimed at different types of users, so everyone should be able to find the right app for their needs.
Cryptocurrency Alerting
The other two apps on the list offer unique features that can make them interesting to some users. But, this doesn't mean that Cryptocurrency Alerting lacks features. On the contrary, this is the best crypto notification app on the market, when it comes to standard crypto alert service.
According to its website, Cryptocurrency Alerting is currently monitoring almost 27000 different cryptos, on 46 exchanges. This means that it's extremely difficult to not get alerts about the info you need.
Apart from allowing the users to set price alerts through the app's price tracker, Cryptocurrency Alerting watches for unusual changes in trading volume on crypto exchanges. It also monitors the market capitalization of the entire crypto space.
An interesting option named "BTC dominance alert" can notify the user whenever there's a change in Bitcoin's dominance over the rest of the crypto space, in terms of crypto market cap. Another Bitcoin-specific option is the Mempool Alert, which monitors the Bitcoin network for congestion.
Cryptocurrency Alerting can notify you when a new coin is listed on the exchange. It can also send transaction alerts whenever there's activity in a wallet whose address you've previously entered. This is useful for keeping an eye on airdrops or unplanned transactions. Additionally, the app can monitor the Ethereum network and send alerts when Ethereum gas fees are cheap.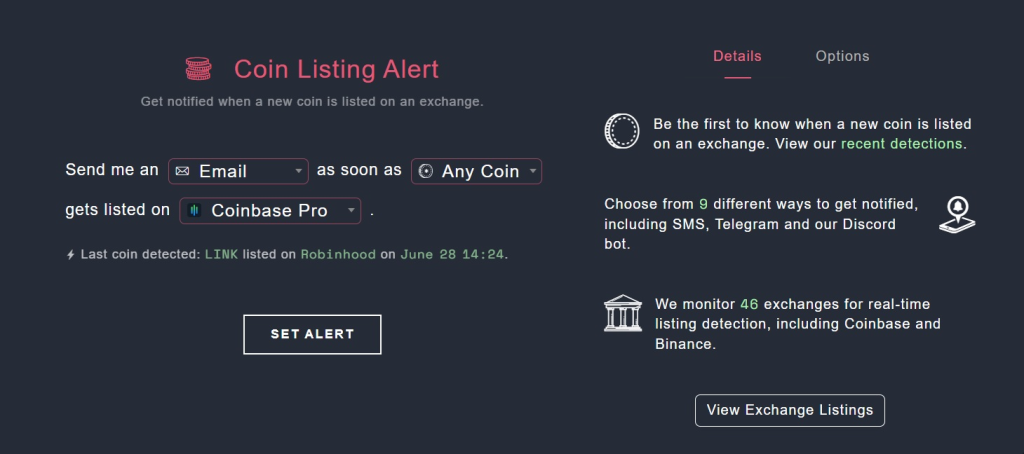 There are nine ways to receive notifications. These include e-mails, SMS, phone calls, and browser and push notifications. The interface is clean, elegant, and easy to use. You likely won't have difficulties with setting up the alert system. With the rise of the digital economy and the advent of decentralized finance (DeFi), there are now more options available. Defi solution review can be a great resource for exploring the different car loan options available in the DeFi market.
Cryptocurrency Alerting offers three pricing options, depending on the users' needs. The cheapest one is free, but it only offers up to 3 active alerts and up to 10 notifications per week. If you're a hobbyist user, this will probably be enough.
If you choose the most costly pricing option, you'll need to pay $20 per month. In return, you'll receive unlimited notifications, as well as access to premium features, such as the cross-exchange monitoring feature.
Overall, Cryptocurrency Alerting is a great choice for various crypto alerts. If you're an experienced user in need of monitoring several cryptos on several exchanges, paying for some of the two commercial pricing options can be worth it. As for inexperienced traders, they won't go wrong with the free version of the Cryptocurrency Alerting app.
Investing.com App
Investing.com is a long-running website. Its official crypto alert app is backed by expertise and years of experience. In other words, the developers knew what users want, and that's what they've given them. This is evident even when you've just started to use the app, thanks to the intuitive and smooth user interface.
The options to set crypto alerts are similar to the ones that the other top crypto notification apps offer. Cryptocurrency price fluctuation, trading volume, and market dominance info is available, as well as the historical price data.
There's also a handy Portfolio feature, that enables users to identify trends and opportunities in the crypto market. By using this feature, you can track the gains and losses of all crypto coins you're interested in.
Investing.com crypto app only tracks some 1300 currencies, which is twice less than Cryptocurrency Alerting. However, this app offers full information on all of those cryptos. For example, with Cryptocurrency Alerting, you can only learn what Bitcoin's market dominance is. On the other hand, the Investing.com app can notify you whenever any of the 1300 currencies gains or losses a portion of the market dominance.
However, the factor that sets this app apart the most is that it wasn't conceived just as a price notification app. It was also made with the goal of informing the users about the crypto world in general. Therefore, this app also offers crypto analysis and news from respectable sources, and sends alerts for those pieces of news that might interest you. Of course, the Investing.com website is among those respectable sources, but there's also Reuters, Yahoo, etc.
Therefore, if the idea of an app that combines crypto price alerts with news in other crypto-related areas appeals to you, then, obviously, this is the app for you.
If you decide to use it, buying a $7.5 monthly or $6 yearly subscription on the Investing.com website will rid you of the ads that come with the free version.
eToro app
eToro is a platform that allows users to trade in crypto assets, but also stocks and CFDs. Thus, the eToro app will alert you about price changes, but it will also enable you to trade in-app.
This versatility doesn't mean that eToro's price alert system wasn't developed enough. In fact, there's very good support for various cryptos, and the standard crypto tracker features that other apps possess are present as well. The options to inform the users about price, trading volume, and market cap fluctuation are all here. The eToro app also offers advanced market analysis options, and a portfolio of your crypto, with detailed information on each crypto and investment strategies.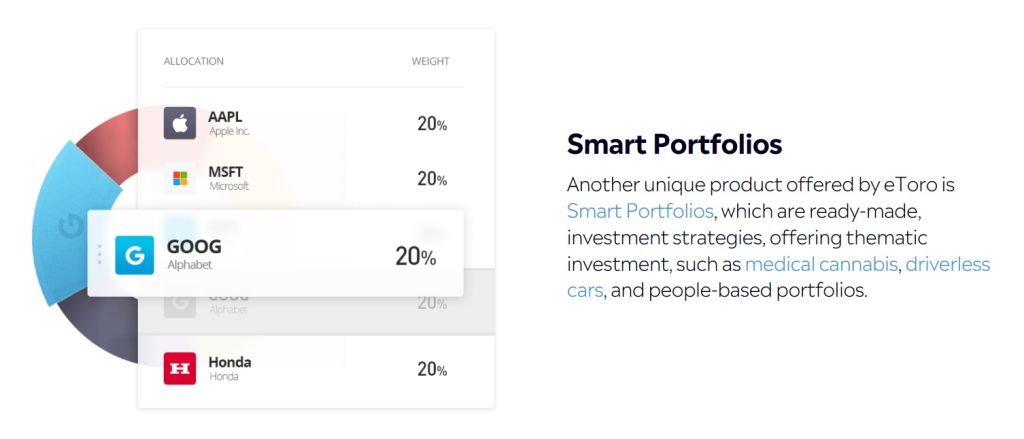 Apart from letting you trade in various kinds of assets, eToro also stands out as the best crypto price alert app for beginners. Its user interface is remarkably approachable, clearly guiding the users every step of the way.
More importantly, the eToro app comes with a demo account feature. This feature lets you trade in a simulated environment, in order to learn the ropes without the risk of losing your money in the process. Many crypto investors who've started this way will confirm that entering the realm of crypto with a demo trading feature is a good idea.
The eToro app is not the only app on the market that lets you trade and receive price alerts in a single app. The popular crypto exchange Coinbase, for example, also offers such an app. The difference in the quality of the two apps is minor. However, we've decided to include the eToro app in this article because it has the advantage of allowing users to trade in stocks and CFDs, as well. While this might not be interesting to crypto-exclusive traders, the fact is that the eToro app is the most complete such app on offer. And, it is free to use.
Conclusion
Crypto alert apps are, generally, very handy tools for tracking crypto assets and monitoring the market. However, with so many options available, it can be difficult to know which one to choose. That's where reviews come in. Tradecrypto.com offers a wide range of reviews for different crypto alert apps, providing users with valuable information about the features and capabilities of each app. With these reviews, you can make an informed decision about which crypto alert app is right for you, and you can use it to receive different kinds of valuable data and to quickly analyze the market.
Of course, you can always use multiple apps. But, if you're only looking for one, then choosing the best crypto alert app boils down to what your needs are.
The eToro app provides the option to trade in the same app, and with stocks and CFDs too. The Investing.com app doesn't have as many features as Cryptocurrency Alerting, but it does offer news alerts. If, however, none of those unique features are of interest to you, then Cryptocurrency Alerting will be a clear winner in your case, given that it is, objectively, the best app of this kind that you can find.